Bucket List Families: tick items off your bucket list with your kids in tow…
At The Bucket List Company, we exist to provide you with unforgettable and lifechanging experiences, whoever you are.
You see, when it comes to ticking stuff off your bucket list, it's easy to think that you can only do so when you're young, free and single.
Nothing could be further from the truth.
We've had people from 17 to 70 on our trips, and over the years we've realised something:
Bucket List trips can and should be for everyone.
Which is why we're delighted to offer Bucket List Families; where all the excitement and adrenaline of a Bucket List trip is combined with some of the comfort and relaxation you need when you're raising a family.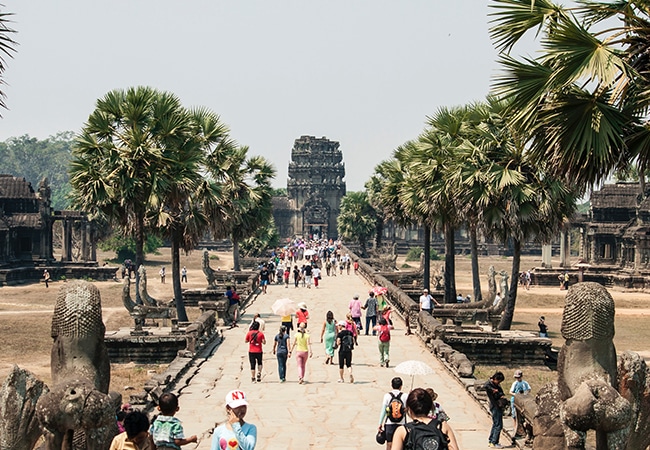 Just because you've got a family doesn't mean the adventures end…
When you've got a family, life changes, and there's not much you can do about it. Nor would you want to – there's nothing more rewarding than bringing up your kids.
But it'd be silly to pretend that it doesn't make some things a little more challenging.
Trips to the pub are much more challenging than ever before, while date nights have to be carefully planned and diarised – and that's before we even get started on holidays.
With no kids, you can just pack a bag and go; with no worry about how 'rough and ready' the accommodation is, or how long the bus journeys will be.
But with kids, it's different.
And that's why we created the Bucket List Families programme, to help those thrill-seekers who still want to experience Bucket List-style adventures, but with a few more creature comforts to ensure that their kids are well catered for.
Bucket List Families – designed by families, for families.
We created Bucket List Families for people like us – Keith and Sian both have young families and want their kids to enjoy and appreciate the wonders that the world has to offer.
Having been on dozens of trips themselves, they know better than most what needs to be put in place to make a trip family-friendly, and that's exactly what they've done.
Is Bucket List Families for you?
In truth, designing Bucket List trips for families isn't the easiest thing in the world.
After all, a 7-year old can hardly be expected to trek to Everest Base Camp, while scuba-diving definitely isn't the right activity for a kid who's just about learning to swim.
It's about getting the balance of adventure and relaxation right, as well as including the mod-cons that ensure that your trip is fun rather than frantic.
It's with all of this in mind that we've made the decision to design Bucket List Families trips for families with children over the age of XX.
The result is that only kids who'll appreciate the adventure can go on the trips – meaning you won't be stuck with screaming babies.
How are these trips different to normal Bucket List trips?
These trips are still all about ticking items off your bucket list – we haven't watered them down and turned them into package holidays.
But there are a few key touches on each Bucket List Families trip that will make life easier for you.
Private family rooms.
More rest days.
A bigger variety of activities.
The list goes on – wherever we've been able to 'familyise' a trip, we've done it.
The question is, do you want to wait until your kids are grown up before you embark on your next great adventure?
Or do you want to help them experience and enjoy other cultures, expose them to new ideas and give them a taste of what the world has to offer?
If it's the latter, then we urge you: don't wait, join us on a Bucket List Families adventure.
Click below to browse the adventures we have available.
Bucket List Families destinations - Coming Soon
Bucket List Families destinations - Coming Soon
Complete the short form to let us know that you're interested in Bucket List Families. You'll be among the first to know when our trips are available to book!
Here's what some of our awesome customers had to say: