Is Everest Base Camp Hard?
Here's the reality: most of us are never getting to the top of Everest.
I mean, if you want to, then good for you!
However, just because you're not scaling the highest mountain on the earth, it doesn't mean you won't get the opportunity to experience its awesome heights from below.
Experiencing the great mountain from base camp is an incredible experience in its own right, and is far more accessible than the incredibly draining, dangerous and effort-filled climb to the summit.
So if you harbour ambitions of seeing the great Sagarmatha, then you're in luck, because I'm going to tell you exactly how hard it is to trek to Everest Base Camp.
How taxing a climb is it?
When people think of 'Everest', they generally think of a climb.
Rocks, snow shoes, ropes, the list goes on – the association is that Everest is H-A-R-D.
Which it is, if you're scaling the summit.
But if you're going for the Everest Base Camp, then there's no technical climbing required at all.
Instead, it's a long hike. And when we say long, we do mean long.
The whole trek usually takes around 12 days, as you'll need to hike from Lukla, through the Khumbu Valley.
(You could just take a helicopter, but where's the fun in that?!)
How fit do you need to be?
Not that fit.
You will need to have a basic level of fitness, but you don't need to be a bodybuilder or a marathon runner.
The key characteristic required to trek to Base Camp is determination: if you're good at sticking something through to the end, and your fitness is "okay", you'll be fine.
Having said all this, the terrain can be quite hard-going, with a lot of rocky paths and steep bits. Our suggestion is that you take your time and take regular breaks to ensure you don't burn out.
Oh, there is some good news though: your big bags get carried by the porters!
How long is it?
Once you depart from Lukla, it's a 65km trek to Everest Base Camp (and obviously 65km back!).
The trips we run last between 16 and 18 days, and that includes a few free days in Kathmandu.
How high is it?
I'm glad you asked. Altitude is the biggest challenge to the success of your trek to base camp, and makes what is a relatively short trek a bit more of a challenge.
I really would urge you to take this very seriously: altitude sickness is no fun for anyone, and can be very serious.
The trek starts at just under 3,000m and during the process you'll ascend to 5,364m at Everest Base Camp and 5,643m at Kala Patthar on the way back.
We ensure that you have plenty of time to get acclimatised, and have at least two specific days where you can become acclimitised to the altitude.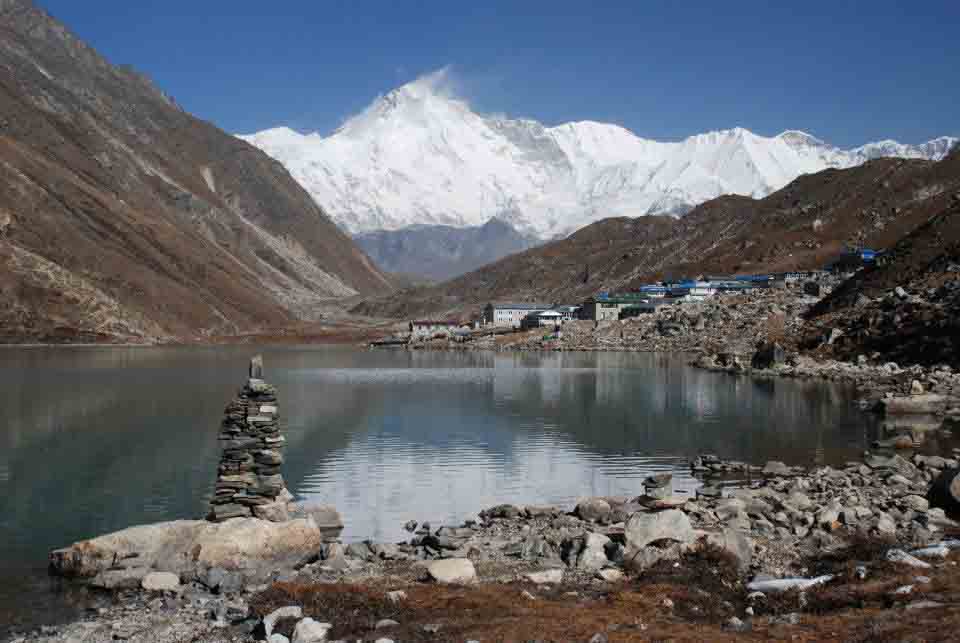 How hard do I need to train?
We do recommend you spend some time training, but as I said, you don't need to be a world beater to be able to complete this trek.
The best prep you can do is lots of walking – that's going to be your primary activity for all of the trek!
Don't just head out for a stroll though; it's much more effective to try to replicate the load you'll be carrying on the trek, so take a heavy backpack with you too.
In addition, some gym sessions will really help, especially some leg strength training, whilst going for a swim or a jog will help with your aerobic fitness.
Where do I organise this?
Good news, we'll do it all for you! Click here to check out our Everest Base Camp trip and download our free guide.
Or, for more information and advice, feel free to contact us on 0176 930 9007. We would be happy to hear from you!